Jimmy Barnes' memoir Working Class Man  accompanied by national tour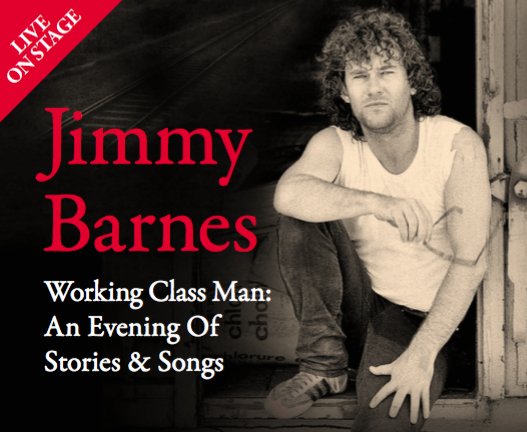 JIMMY BARNES
ANNOUNCES WORKING CLASS MAN:
AN EVENING OF STORIES & SONGS
NATIONAL TOUR
COMMEMORATIVE EDITION OF CLASSIC #1 ALBUM
FOR THE WORKING CLASS MAN 
RELEASED ON 3 NOVEMBER
Jimmy Barnes' highly anticipated new memoir Working Class Man will be accompanied by a special national tour it was announced today
Tickets for all shows will go onsale at midday on Tuesday, 24 October. Fans are strongly advised to ONLY buy tickets via the genuine links at www.jimmybarnes.com or frontiertouring.com/jimmybarnes otherwise they risk getting ripped off by online scalpers.
Working Class Man: An Evening of Stories & Songs will be the sequel to the acclaimed and hugely successful live show Jimmy performed alongside his first bestselling memoir – Working Class Boy. Like that previous production, this new tour will see Jimmy telling his life story and singing stripped back versions of songs that have shaped his journey. However, unlike its predecessor, this live show – and book – will cover the Oz rock icon's entire adult life, revealing the successes and excesses of Australia's greatest rock 'n roll story.
In Working Class Boy, Jimmy revealed the previously untold details of a profoundly troubled childhood. That memoir – which he wrote entirely on his own – won the ABIA Award as the Best Biography of 2016. It was also Australia's  #1 selling non-fiction title last year with sales now topping 150,000 copies. The harrowing companion piece Working Class Boy: An Evening of Stories & Songs was performed over 40 Times in Australia and New Zealand and its staging at the Sydney Opera House won him both a Sydney Theatre Award and a Helpmann Award nomination.
The new Working Class Man live show and book – again both written by Jimmy – begin in 1974 as he leaves Adelaide in the back of an old bread truck with a then unknown rock group called Cold Chisel. They trace the legendary band's long climb to the top and their subsequent implosion. The story then picks up as Jimmy carves out a new solo career for himself. He becomes the country's biggest rock star before drugs and alcohol bring him to his knees and he eventually rebuilds his life thanks to the love of his wife and his family. It's a spellbinding and searingly honest reflection on success, fame and addiction.
Working Class Man: An Evening of Stories & Songs is presented by The Sound and Sunday Star Times. The tour will also help promote the good work of Lifeline (www.lifeline.org.nz) as Jimmy will be drawing further attention to the issues of addiction and mental health in both his new book and live show. As he says in the preface to Working Class Man:
"In book one I faced the damage that a broken home and a broken heart can bring. In book two I face the impact that a childhood like mine can have on a man. Don't get me wrong. I'm not blaming anyone for any of this. We all do the best with what we have. But in book two the blame rests squarely on my shoulders, and until I work a lot of things out I carry a lot of baggage around with me …
I have done a lot of great things. I have a beautiful family and wonderful friends. But there were many times, dark times, that I almost let it all slip through my fingers. In the end I asked for help. I used to think that if someone asked for help they were weak. But the toughest thing I ever did was reach out and ask for help. And that was when I started to heal."
What the critics said about Working Class Boy: An Evening of Stories & Songs:
"A powerful, deeply emotional and transformative production" – The Daily Telegraph
"A sophisticated and very moving piece of storytelling" – The Daily Review
"… anyone seeking an emotional, dark, funny, exciting theatrical event — and a powerful singer still in great voice — will be thrilled" – Sunday Mail SA
"You know you've been to a pretty good gig when the songs of your youth are redefined. That is just what this old Cold Chisel fan is feeling right now after spending a wonderful 150 minutes listening to Australian rock great Jimmy Barnes tell his life story with yarns and song" – The West Australian
To coincide with the soon-to-be bestselling book of the same name, Bloodlines/Mushroom will release a limited edition, commemorative version of one of the greatest Australian rock albums of all time, For The Working Class Man on 3 November 2017. This deluxe, double-disc package includes:
Disc 1 – CD
The original 1985 recordings totally re-mastered by Don Bartley, who undertook an exhaustive analogue process including the use of 1/2" tape to keep dynamics and clarity intact, maintain the punch of the original mixes and create some natural harmonics while still allowing for competitive levels.
Disc 2 – DVD
This 1984 performance from the legendary Playroom in Queensland captures the raw energy and musical potency of that period. It has never been commercially released.
The CD booklet has also been expanded to include previously unseen photos from the original shoot by Patrick Jones, exclusive liner notes and a track-by-track commentary from Jimmy recapturing the stories behind these classic songs. And all in a slipcase tying the album artwork directly to the cover of the book.
Jimmy's longtime friend and label owner, Michael Gudinski, said, "I'm so proud of everything Jimmy has achieved, both solo and with Cold Chisel. He's had more number one albums than any other Australian artist. He's actually sold more albums solo than with Chisel, which is a remarkable stat. He's a two-time ARIA Hall of Famer. Hell, he's even a best-selling author. But Jimmy has never forgotten his working-class roots. The things he still values most are honesty, loyalty, friendship and family"
The updated, remastered video for Working Class Man can be viewed and embedded from here.  Hi res images can be downloaded from here.
Tickets to Working Class Man: An Evening of Stories & Songs go on sale to the general public at midday , on Tuesday, 24 October, 2017.
JIMMY BARNES
WORKING CLASS MAN: AN EVENING OF STORIES & SONGS
MAY 2018
Presented by
Eccles Entertainment, The Sound and Sunday Star Times
GENERAL PUBLIC ON SALE
Begins: Tuesday 24 October, midday
NEW ZEALAND TOUR DATES
Tuesday 8 May
Isaac Theatre Royal | Christchurch
Ticketek.co.nz | 0800 842 538
Thursday 10 May
Michael Fowler Centre | Wellington
ticketmaster.co.nz | 0800 111 999
Friday 11 May
Spark Arena | Auckland
ticketmaster.co.nz | 0800 111 999
Saturday 12 May
Claudelands Arena | Hamilton
ticketek.co.nz | 0800 842 538
Please note that in keeping with the nature of this production, the show will be staged over two acts with a short interval. There will be no support band so Jimmy will be onstage from the advertised starting time at all shows. Due to the content of the production, it is strongly advised that those under 18 are accompanied by a parent/guardian.
For The Working Class Man Limited Edition Commemorative Album
Jimmy Barnes
Out Friday 3 November through Bloodlines