What Is A DI Box?
"Because that's the way it's done …", is the common answer, when a musician is asked why they use a DI box. In fact, you can find these small boxes almost anywhere where music is made: on stage, in large studios, in home recording studios and for various reasons and in various situations.
The main reason to use a Direct Injection (DI) box is its ability to transform an unbalanced signal from a musical instrument into a balanced one. For more information on balanced and unbalanced transmissions, take a look at our previous article.
As the theory is rather heavy to digest, we will focus on practical examples and give you an overview of the wide range of DI boxes available
On Stage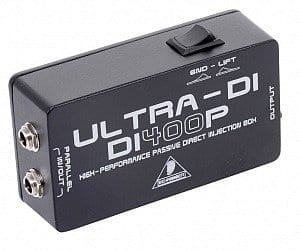 You'll need a DI box, to help send the signal of musical instruments such as guitar, bass or keyboard over longer distances. For instance, on stage when you need to plug your instrument into the stage box via a multicore cable to the mixer and the signal has to survive a distance of 20 or more meters with no severe injuries.
Furthermore, several types of signals will be sent to the mic/line inputs of the console! And often being connected to a mic preamp, DI boxes are responsible in bringing the input signal in the proper impedance. In fact a direct box is also an impedance converter. Finally, these magical boxes also allow galvanic isolation to the signal and thus provide a transmission with greater reliability and without error or interference.
Active or passive?
Active DI boxes have a built-in amplification which requires power and are generally more expensive. With the juice supplied by a 9V battery or phantom power to microphone preamp, it is possible to not let the signal level drop, which is often the case with passive DI. They are recommended for instruments with low output and high-impedance such as guitar or passive bass. In comparison, you'll notice how thin, fragile and broken it sounds when plugged directly into a line-input. An active circuit is absolutely necessary for an electric acoustic guitar with piezo or contact mic, as the signal hardly gets fished out from the noise.
The BSS AR-133 is an absolute active classic for stage purposes. It is distinguished by its stable and practical chassis. It provides real galvanic isolation and its internal transformer is fully screened while ensuring the rejection of electromagnetic interference. For alternatives at a lower price we recommend the Millenium DI-33, LD Systems LDI02 or Behringer DI100 Ultra-DI.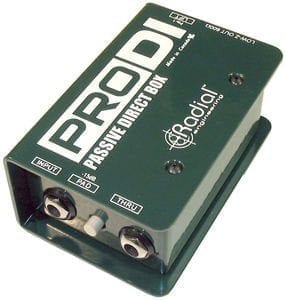 Passive DI boxes are generally a better market. They are simpler in design and are most of all sufficient for electronic instruments, keyboards, drum computers, workstations, synthesizers and DJ mixers with unbalanced outputs. The Radial Pro DI is a prime example as are the DI-P Millenium, Palmer Pan 01 or Behringer Ultra-DI DI400P at lower prices.
Also convenient for many applications: is the Stereo DI box, such as the PROD2 from Canadian manufacturer Radial Engineering or the Audiowerkzeug Dudi. For a cheaper alternative there is Palmer Pan 04.
Balancing in passive can also operate in the reverse direction. This will retrieve a properly recorded signal from your sequencer with the level and impedance matched to an effect pedal or a guitar or bass amp and allow for Re-Amping!
There are special direct boxes for Re-Amping such as the Palmer DAACPO or Radial Pro RMP, but this can also be achieved with a Behringer Ultra DI DI600P or the popular Palmer PAN 01.
Different options
Not only is there the issue of circuitry to be considered, but also different options depending on the model:
Usually, you will find an attenuator pad for when your incoming signal is too "hot". The option that allows to separate the mass and the signal and thus eliminate any background noise due to mass problems is generally called "Ground Lift". The "Link" or "Thru" jack, depending on the model is an asymmetrical output connected to the unbalanced input. This allows you to use the amp while maintaining a symmetrical connection in sending the signal to the console.
Different price ranges
DI boxes not only differ in their options. In fact you will generally notice in passive and often in active, significant differences in the sound which depend on the components used by the manufacturer.
The bass and treble often suffer from poor quality from the components in entry-level models. Higher end models will have minimal influence on the sound and a very pronounced special character. The risk in using a "cheap" direct box usually doesn't pay off.
Premium DI boxes are necessary in the recording studio, where differences are particularly pronounced. Included here from this range are the Rupert Neve Designs RNDI and the legendary Avalon U5distinguished by an insanely good frequency response, smooth detail and multiple functions and tone presets.
Do I have to use a DI in the studio?
No ! To properly work an instrument signal it should be amplified. And many mic preamps offer an instrument input, sometimes called "Hi-Z" or "DI" (aha!). So if you have a high-end preamp at your disposable, first try this solution – or consider investing in one: hit two birds with one stone and leap forward in terms of quality compared to most mic / instrument preamps in audio interfaces.