Stenzel and Hicks afford 'adaptation' of optical disc-driven sound of Seventies OPTIGAN organ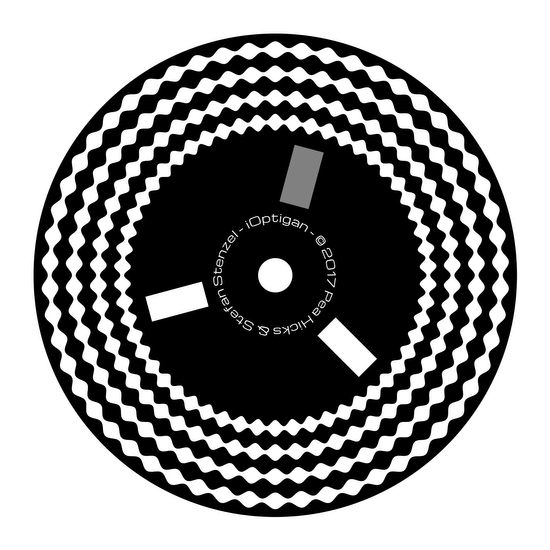 Stefan Stenzel, co-founder/CTO (Chief Technology Officer) of German high-quality hardware and software synthesizer brand Waldorf Music, and Pea Hicks, self-styled custodian of all things OPTIGAN for the last 20-plus years, are proud to announce availability of iOptigan — an iOS app 'adaptation' of the OPTIGAN, an early-Seventies-vintage chord organ fondly remembered by a faithful few for its unique system of sound reproduction using optical discs
The long and winding road to bringing iOptigan to today's technologically-inspiring iOS platform — producing an app compatible with Apple's ubiquitous iPhone, iPad, and iPod touch (requiring iOS 8 or later) — effectively dates back to the early-Seventies when Optigan Corporation introduced its namesake OPTIGAN to the wider world. What on earth is an OPTIGAN, though? The OPTIGAN — or OPTIcal orGAN — was a kind of chord organ, as implied by (its full) name. Needless to say, it was set up like most home organs of the time — a small keyboard with buttons on the left for playing various chords, accompaniments, and rhythms. That being said, what truly set the OPTIGAN apart from the rest of its contemporaries was that its sounds were read off LP-sized celluloid discs containing the graphic waveforms of real instruments at a time when organs still produced sounds electrically or electronically with tubes or transistors. Therefore, like the Mellotron and Chamberlin before it, the OPTIGAN really represented an early form of sampling technology, though, unlike its tape-based predecessors, the OPTIGAN's 'software' came in the form of those LP-sized celluloid discs, optically encoded with 57 concentric rings of film-style soundtrack — same technology as film soundtracks of old, in fact. For the benefit of those that remember the sequence in Walt Disney Pictures' 1941 animated feature film Fantasia where the 'Soundtrack' makes a cameo appearance, those squiggly lines are actually pretty close to what the real thing looks like.
But back in the wonderful world of OPTIGAN technology, the sound loops on each of those discs represented actual studio recordings of musical combos playing chord patterns in different styles that could be triggered by the instrument's chord buttons and keys. Each disc contained a specific style of music, such as bossa nova or big band, which the user could control. Changing discs was as simple, say, as putting a new record on a turntable. Think of it as 1971's answer to GarageBand — somewhat ironic, perhaps, given its future 'connection' to those inspiring iOS products. Put it this way, though: the irony is not lost on Pea Hicks, self- styled custodian of all things OPTIGAN for the last 20-plus years, who readily admits, "The result was pretty crappy sounding and soon forgotten by the world at large."
Indeed, its novel technology, and the lo-fi, scratchy sound quality of the OPTIGAN and the inherent unreliability of the hardware itself left a lot to be desired. By the late-Seventies, the digital writing was on the wall with the severe limitations of optical sound reproduction rendering the OPTIGAN — and its close cousins, the Vako Orchestron (put to good use by German electronic music icons Kraftwerk on their trailblazing Radio Activity and Trans-Europe Express albums) and Chilton Talentmaker — 'obsolete'. Of course, what goes around comes around. As prophetic, pioneering ambient music pioneer Brian Eno eerily predicted way back when: "Whatever you now find weird, ugly, uncomfortable, and nasty about a new medium will surely become its signature."
Fast-forward to today, then, and those 'long-lost' early-Seventies signature — some might say cheesy — sounds of the OPTIGAN are available for all to experience and play in iOptigan, 45 years after the original OPTIGAN first saw the light of day. Indeed, iOptigan authentically recreates the lo-fi, scratchy sound that left so much to be desired all those years ago. All of which rather begs the question: why? Well, today the loop-based paradigm of the OPTIGAN surely seems more appropriate than ever.<
Enter an individual who clearly needed no convincing — namely, Pea Hicks. Having acquired his first OPTIGAN in the mid-Nineties — just as the Internet was starting to take hold, he immediately began trying to find out everything he could about the instrument, managing to make contact with many of the people who worked for the company, even. Eventually he got in touch with Mike LeDoux, the individual in charge of making the discs for the OPTIGAN and final custodian of the audio material after the demise of the company, who still had all of the original studio master tapes, which he kindly passed on to Pea Hicks before he himself passed away.
Fortunately for those faithful few, Pea Hicks has maintained the world's premiere website about all things OPTIGAN (Optigan.com) for 20-plus years. In addition to documenting the history of the instrument, he has also brought it back to the future by providing sample libraries of OPTIGAN sounds, making a series of all-new discs for the original hardware (in collaboration with Robert Becker), and now, with the assistance and expertise of Stefan Stenzel, there is iOptigan!
Stefan Stenzel is better known as CTO of Waldorf Music, so iOptigan was realised as a side project of sorts. Saying that, he had already amassed some serious experience of iOS app development during his 'day job' with Waldorf's Nave, its first synthesizer app for Apple's all-conquering iPad in June 2013, as well as masterfully migrating its long-running Attack virtual drum and percussion soft synth that took the VST (Virtual Studio Technology) world by storm back in early 2001 to iOS in 2015. Upon reading about the OPTIGAN in 2016 he thought it was a perfect iOS 'conversion' candidate. Californian business with Waldorf led to Stefan Stenzel meeting Pea Hicks and the rest, as they say, is history.
Happily, iOptigan is an authentic recreation of the unique user interface and playback characteristics of the OPTIGAN. Unlike a typical sampling keyboard that triggers samples from the start each time a key is played, the OPTIGAN's disc is in constant rotation, resulting in its keys and buttons simply gating the various sound loops on and off, wherever they happen to be in the one-bar cycle. Anyone wanting to trigger a loop on the downbeat has to watch a flashing metronome light and hit the right button at exactly the right point in time. iOptigan emulates this and all other OPTIGAN quirks perfectly, so an iPad can now serve as a substitute for the OPTIGAN's left-hand control panel while an external MIDI (Musical Instrument Digital Interface) controller capably handles right-hand keyboard duties. At a pinch, it is also possible to play the keys via an onscreen keyboard.
Key to iOptigan's authenticity is that all 40 of the original OPTIGAN disc titles are available — all recorded directly from the original discs and hardware, and all in their lo-fi glory. Indeed, iOptigan is not an app for those demanding crystal-clear digital sheen! Since this is 2017 — not 1971, however, iOptigan includes many modern enhancements, such as an onboard sequencer and a variety of MIDI triggering modes. Rounding out the app is a generous helping of original OPTIGAN disc jacket art, the groovy original owner's manual, and copious quantities of historical/technical notes. Clearly, California proved to be a match made in heaven for Stefan Stenzel andPea Hicks — history in the (musical) making for today's technologically-inspiring iOS platform! Put it this way: 1971's answer to GarageBand now plays perfectly with iOS in the here and now, so get out an iPad and get into the groove and party like it's… 1971 with iOptigan!
iOptigan can be purchased and directly downloaded from the App Store for $4.99 USD from here: https://itunes.apple.com/us/app/ioptigan/id1143470101?ls=1
Note that iOptigan comes complete with 25 of the 40 original OPTIGAN disc titles; the remaining 15 are available as In-App purchases, either individually (priced at $0.99 USD apiece) or as the self-explanatory Complete Disc Pak (priced at $5.99 USD).
For more in-depth information, please visit the dedicated iOptigan webpage here: https://www.ioptigan.com
Visit the world's premiere website about all things OPTIGAN here: http://optigan.com